Hieromonk Andrew Falls Asleep in the Lord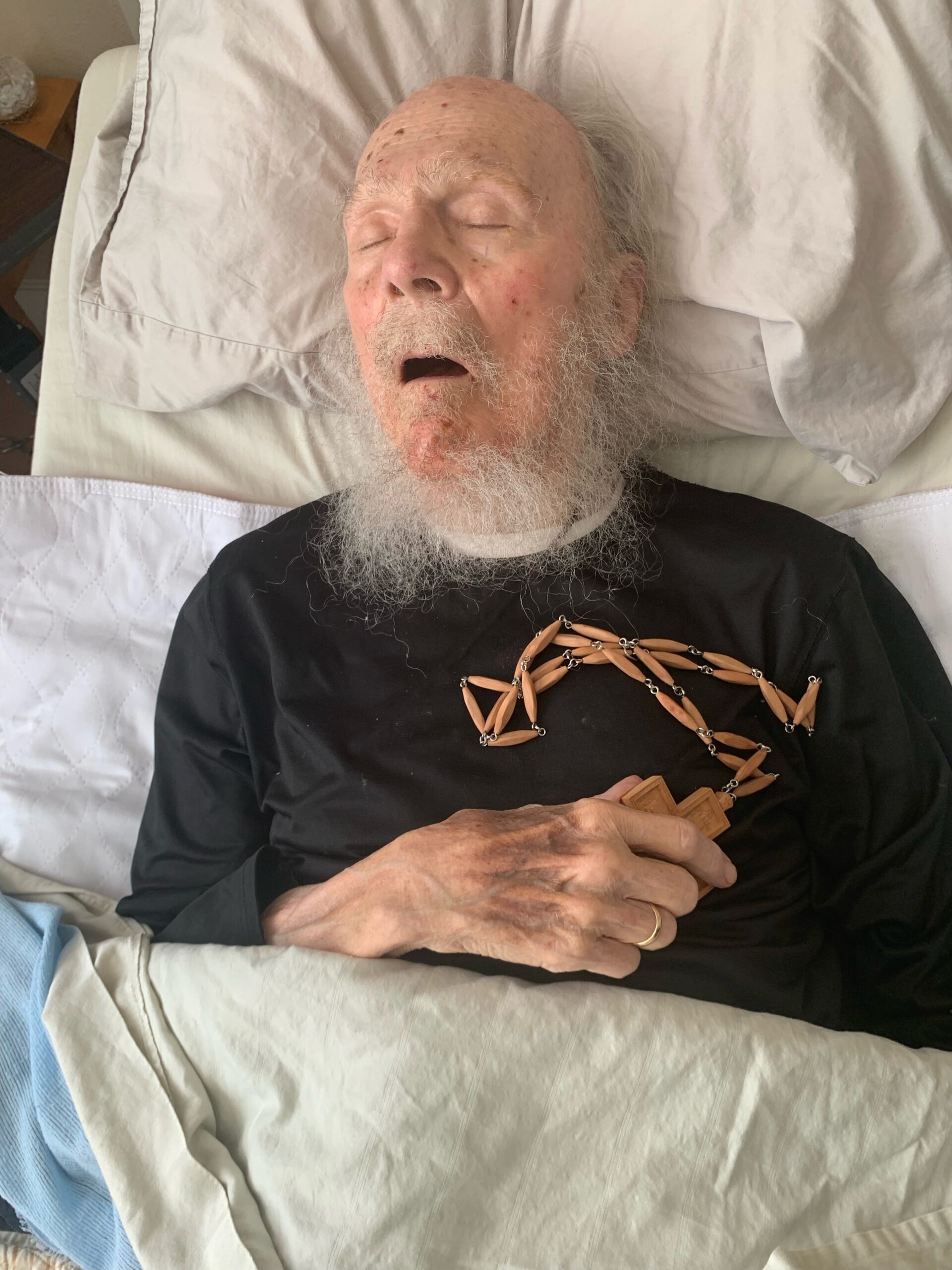 On Monday of this week my good friend and confessor, Hieromonk Andrew (Fr. Nicholas Letten), fell asleep in the Lord. Father Andrew gave his whole mind and heart to Christ, and for those of us who had the privilege of being around him, there is surely no man who radiated the life of the Saviour as did this man. His heart and mind were constantly focused on Christ. For years he woke up at 4 am to do morning Matins in the parish he was attached to, and returned in the evening for Vespers. Hieromonk Andrew lived a strict ascetic life long before being tonsured a monk.
This man who loved and embraced asceticism, kept his whole waking moments focused on Christ. And in his devotion, Father's love, and laughter, and his humility grew. This saintly priest laughed frequently out of joy, and because of his compassion for the poor, even gave out sandwiches to street people. Father Andrew touched the hearts of everyone who was lucky enough to come in contact with him.
That he became my close friend and confessor, so many years ago, truly was a blessing for me. Father Andrew touched my heart in a very special way, and whenever I drove down to Portland for a visit, we'd always take a drive around Portland, or sometimes out in the country, giving us both time to enjoy each other's company, while taking in our surroundings.
Father Andrew loved Vashon Island, and loved our monastery, just as we monks loved him. I am grateful for the time I had with him last week, but only regret that I was not able to be at his side when he took his last breath. At a point when his breathing was becoming weaker, I told him that the saints in heaven would know he'd arrived by the sound of his laugh. And this man, nearing death, laughed!
As a priest and monk of the Russian Orthodox Church, I am comfortable with the mystery of death, as all Christians should be. Death can be a mystery precisely because the triumph over death is not a mystery. As the Orthodox theologian Alexander Schmemann once wrote, "in essence, Christianity is not concerned with coming to terms with death, but rather with the victory over it." In the light of everlasting life, in the name of Jesus Christ, the dreadful threat and dark mystery that is death is transformed into a happy and victorious event for the believer, and "Death is swallowed up in victory." (1 Cor. 15:54)
So, even though I have lost one of my closest friends, I know that I now have another heavenly intercessor. I know that my friend and brother is beginning the true life that also awaits me beyond the grave, if indeed I have begun to live it here. Christ, "the resurrection and the life," (John 11:25) transformed death.
Christ assumed human flesh, Christ was crucified, resurrected, ascended to heaven and waits for us there, and Christ ushers us into new life both now and after our death. Therefore, even as death exposes our frailty and our grief, death does not reveal our finiteness; instead it reveals our infiniteness, our eternity. To this end, the Christian does not ponder the mystery of death in a way that is paralyzing, negative and apathetic, but in a way that is productive, positive and dynamic.
So, it is with this hope of the resurrection that I have seen my friend depart from this life. Although I will miss my time with my old friend, I know that he is with God, to Whom he entrusted his soul. Knowing, as I do that this God is a good and loving Father to us all, I am comfortable with the departure of my friend.
May your memory be eternal, my dear and faithful friend. And don't forget my request, dear Father Andrew, to but in a good word for me, poor monk and sinner that I am.
With love in Christ,
Abbot Tryphon
This is the final photo with my dear friend.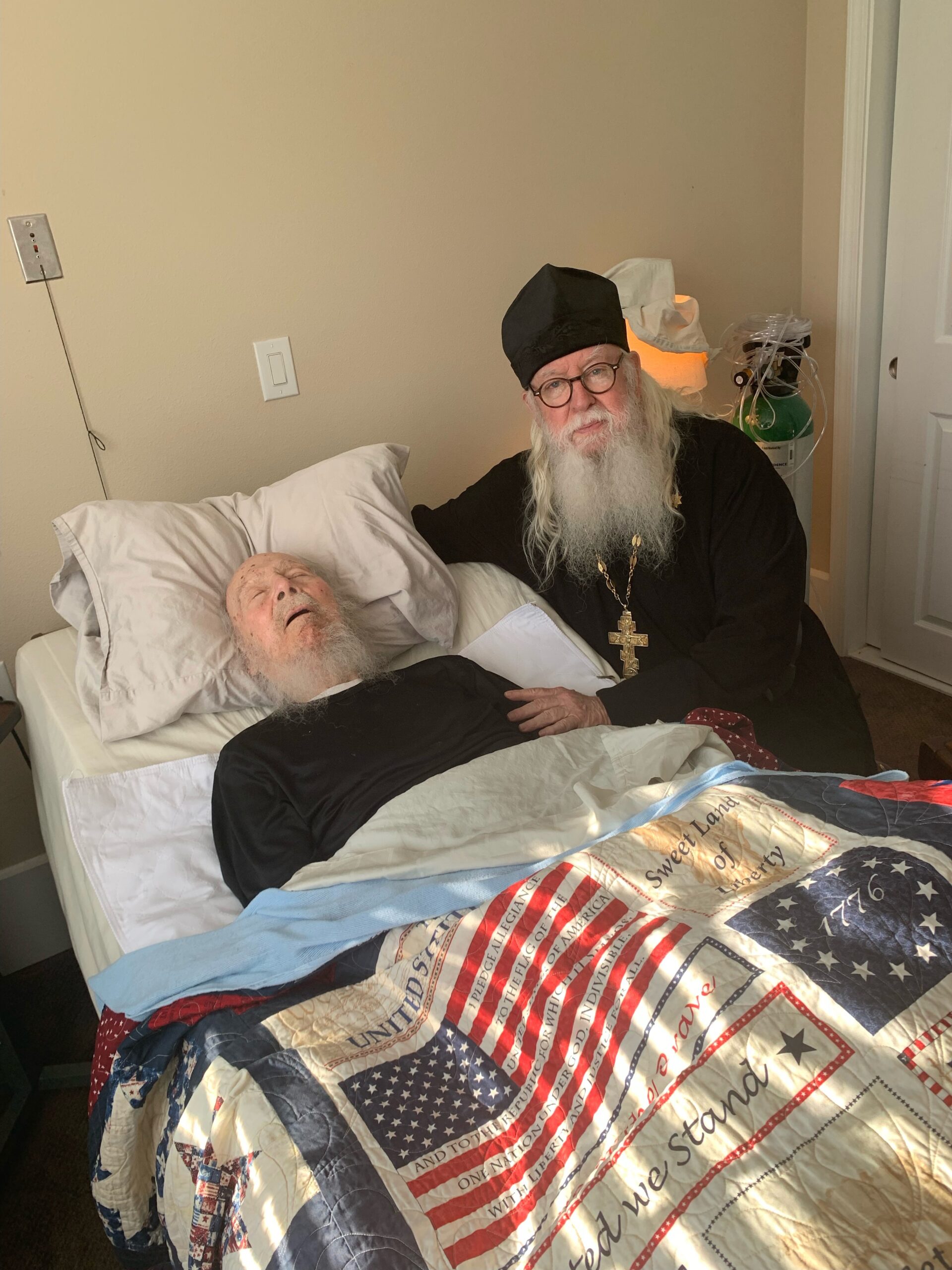 Fr. Tryphon is the Abbot of the Monastery of the All-Merciful Saviour, which was established in 1986 by Archimandrite Dimitry (Egoroff) of blessed memory. The Monastery is under the omophore of His Eminence Kyrill, Archbishop of San Francisco and Western America, of the Russian Orthodox Church Outside of Russia.